Syracuse Dance Academy is located at 1835 W. 2250 S. Syracuse, UT in the old Lion's Club building. The 7,000 square foot building is equipped with 3 beautiful spacious studios; a Ballet Studio, a Children's Dance Studio with stage, and a Tumbling Gym complete with built in tramp and rod floor. We have 3 separate restrooms and lots of lounge spaces for parents and students to hang out.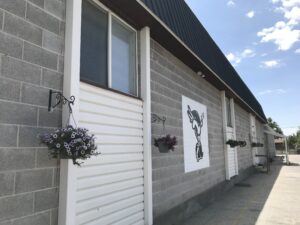 ---
Ballet Studio (A)
We have installed a state-of-the-art 2,000 square foot suspended hardwood dance floor. The dance floor is wood and is "suspended" to cushion the dancer's body from the impact of leaps and jumps. Dancing on concrete or a hard surface will give the student shin splints, bad ankles, can hurt their back and cause other injuries. This studio is a large airy space complete with ballet barres, mirrors, and 12-foot ceilings.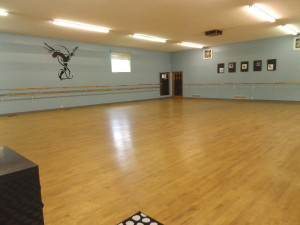 ---
Children's Dance Studio (B)
The Children's Dance Studio is equipped with a stage, parent's observation windows, ballet barres, mirrors, 12 foot ceilings, and props to make the classes fun and entertaining for the students while providing them with proper dancing skills. To access this studio, please enter through the Studio B entrance with the stairs.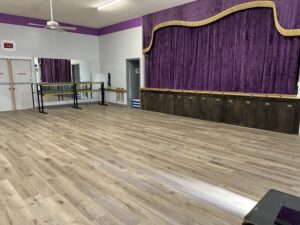 ---
Tumbling Studio (C)
The Tumbling Studio has a 16-foot vaulted ceiling to provide plenty of room for the advanced tumblers to perform aerial stunts. A rectangular trampoline in a pit provides tumblers an opportunity to learn advanced tumbling with confidence before they try it on the floor. A 50 foot rod floor helps intermediate tumblers with a little extra 'spring' for difficult passes. This studio allows longer passes and more strength conditioning. We also have 2 low impact beams, a pre-school training bar and other fun equipment that is used with our beginner classes. Class is fun and exciting each and every time!
---
Studio Location and Parking
Our facility is located off of 2000 West on 2250 South, just south of Syracuse City Hall and Town Center. We are safely tucked away in a residential / commercial part of Syracuse. Just ½ mile away from Wal-Mart you can drop your students off and get a little shopping done. We have ample parking for parents who would like to wait in the waiting room while their students attend classes.
---
Waiting Room
Parents with young children can wait in the waiting room during classes to help provide the best learning environment for the children in class. There are observation windows that allow parents to see without being distracting and toys for younger siblings.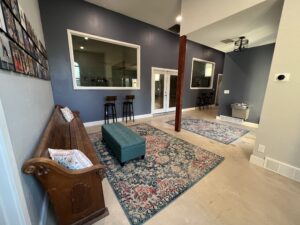 ---
Office
There is usually someone in the office between 4:00-6:30 pm Monday – Thursday to answer questions and collect tuition.
---